ABOUT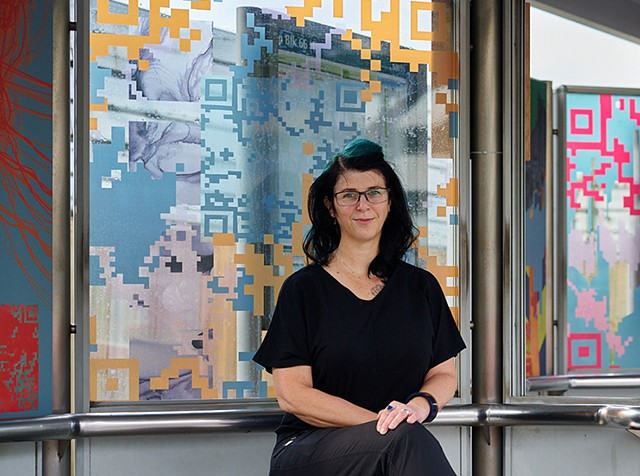 ABOUT
Inspired by the changing nature and structure of cities, I examine how we see, navigate and record our experiences of urban environments. As an Australian artist who has been based in Asia for 7 years, my practice reflects a sense of the mental and emotional disorientation of being between places and attempts to understand my own relationship to both the familiar and unfamiliar locations I find myself in at any given time. My work plays on the uncertainty of perception of my own experience and the role of memory in considering new possibilities for spatial representations brought forth by our reliance on technologies and devices. By examining the role these play in influencing our perceptions of space, time, and colour, and observing how devices have become embedded in the everyday, my work is an invitation to relate to and be critical of our surroundings.
I counterbalance abstracted architectural forms against hyper-saturated fields of colour in paintings, drawings, objects, and large-scale installation works. Much like the structure of a city where nothing is seen in isolation, my works are often collaged and clustered together, layered to reflect different modes of seeing and experience. I draw colour inspiration from both my local real world, analogue environment, and the collapsed virtual, digital space of screens, while also referencing the often-invisible structures and systems that underpin our cities.
My practice negotiates space as it relates to urban and public environments. It acknowledges that our relationship to our surroundings is in a constant state of flux, where we negotiate a labyrinthine set of systems in which our daily lives have become enmeshed.
BIOGRAPHY
Merryn Trevethan is an Australian visual artist who is currently based in Hong Kong, prior to this she was based in Singapore from 2014. Merryn graduated with an MFA from Monash University, Australia (2005). She was 1 of ten Singapore-based artists and co-curator of Bus.Stop.Art public art exhibition for Singapore Art Week 2021. Merryn has been commissioned by Facebook's Artist in Residence Program both in 2020 and in 2015 creating murals for their APAC HQ in Singapore. She has also created large-scale spatial interventions and public artworks for Singapore Arts Club. Key residencies include the Golden Foundation Residency Program in New York (2018); NPE Print Residency, Singapore (2018) and Red Gate International Artist Residency in Beijing, China (2009). Merryn is a Certified GOLDEN Artist Educator. In Melbourne, she is a tutor at The Art Room and in Singapore, she has worked with local organization Art Outreach to deliver a range of educational programs for children.
Merryn exhibits in Australia and Singapore. In 2016, she had her first solo exhibition in Singapore at the Australian High Commission. International group exhibitions include Made In Paint 2019 at Sam and Adele Golden Gallery, New York, USA; Apertures at Yeo Workshop, Singapore (2017) and This Wild Song at Town Hall Gallery, Melbourne, Australia (2018). She has participated in public art festivals in Melbourne and in Singapore where in 2014 she was awarded first prize for DRIVE - Public Art Festival Open Call.
Curatorial projects include Bus.Stop.Art a commissioned project for Singapore Art Week 2021, Rules of Engagement (2019) The Substation, Singapore and This Wild Song x Singapore (2018) celebrating International Women's Day at the Australian High Commission, Singapore.